Thursday, September 11, 2014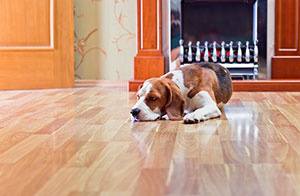 Is your carpet harboring a million-strong population of dust mites? Are your vinyl tiles cracked and faded? Have your ceramic tiles broken into hundreds of tiny shards? It might be time for a new floor.
But before you replace your carpet with traditional hardwood, consider purchasing green flooring. Environmentally friendly cork, bamboo, and linoleum may cost a bit more than the box of laminate flooring at the big box store, but these green options are beneficial to both you and the environment. Some types of flooring put a strain on the earth's resources; certain carpets are made from petroleum oil, and certain hardwood floors are harvested from clear-cut forests. These flooring options could also harm your health. Newly-installed carpets and hardwood floors can emit formaldehyde and volatile organic compounds (VOCs); this effect, known as off-gassing, can pollute the air inside your home. By purchasing green floors, you can live in a healthy home on a healthy planet. Here are your green flooring options.
Hardwood
Hardwood is the perennial flooring choice. Just ask any real estate agent - hardwood floors are a selling feature. Hardwood comes in a range of colors and finishes; no matter your decor, you'll find a flooring that suits your home. Hardwood floors are also a great option for anyone with allergies. Since dust mites can't live on hard surfaces, you'll breathe in fewer allergens.
But not all hardwoods are created equal. Off-gassing is a major concern; hardwood floor stains and sealants typically contain formaldehyde and VOCs. When buying a hardwood floor, look for products labeled low-VOC or no-VOC; make sure that the adhesive used to glue down the floor is also low-VOC. If you're having your floors stained, look for a product made from natural pigments. Also look for the Forest Stewardship Council certification. The FSC sets standards that protect the health of forests around the world; the certification guarantees that your hardwood floor was sustainably harvested without damaging healthy ecosystems.
Bamboo
Bamboo is a type of fast-growing grass; a crop of bamboo can replenish itself in just three to five years. A forest, meanwhile, takes decades - even centuries - to replenish itself. Bamboo is clearly the green choice. It's also a smart design decision. Since bamboo plank flooring is harder than most hardwoods, it holds up well in high-traffic areas. It is also more resistant to moisture than traditional hardwood floors, making it the perfect fit for bathrooms and kitchens. Bamboo is also quickly becoming the affordable option; bamboo floors are much less expensive today than they were ten years ago.
But not all bamboo flooring is environmentally friendly. Some producers clear-cut forests and burn grasslands to make way for bamboo crops. Check with the flooring manufacturer to make sure their bamboo growers harvest their crops sustainably. Alternatively, look for the Forest Stewardship Council certification. You'll also want to make sure the bamboo flooring and adhesive don't contain formaldehyde; the air in your home should be as clean as the air in the bamboo field.
Cork
Most people are familiar with cork - it tops most wine bottles. But this natural material also makes for a great floor. Cork holds up well in damp rooms. It is hypoallergenic and mildew-resistant. A cork floor dampens sounds and vibrations, making it the perfect flooring choice for apartments and townhouses. Suberin, a natural substance in cork, acts as a fire retardant and a bug repellent. It is a hard-working floor - and floors that work overtime are typically expensive. Cork is one of the priciest flooring materials. If you love the look of cork, contain it to the rooms in your home where you'll be on your feet for a while, like your kitchen, since standing on cork won't cause lower back pain.
Cork is sustainably harvested from the cork oak tree; a tree can withstand around 20 harvests during its lifetime. But for every upside, there is a downside - cork is a Mediterranean crop. Transporting cork flooring to countries around the world creates carbon emissions, slightly tarnishing cork's green credibility.
Concrete
Concrete is not just for factories anymore. This flooring choice is synonymous with modern; lofts and contemporary houses feature concrete floors in keeping with the look of streamlined simplicity. But concrete flooring is not just for modern interiors. Professional installers can finish concrete in countless ways, mimicking stone, tile, and even linoleum. Concrete floors are incredibly durable. If sealed annually, they can last a lifetime, saving you the cost of repairing worn-out floors every ten years. Concrete floors are also easy to clean - you can literally hose them down. And since installing concrete floors doesn't require adhesives, the air in your home will be free of VOCs and other harmful chemicals.
Yet concrete does have its drawbacks. The hard surface is not kind to backs; home cooks who prepare dinner standing on a concrete floor will be prone to back pain. Consider installing it in bedrooms and dining rooms, places where you will be sitting or laying down. While concrete is kind to your home's air, it does have a large carbon footprint. Concrete's raw materials are mined, a process that releases carbon emissions into the atmosphere. Also, concrete is not readily recyclable - be ready to commit to your concrete floors for a long time. Lastly, when figuring out the price of concrete floors, you'll need to factor in the cost of installation. Since concrete is hard to install, DIYers shouldn't attempt the job themselves.
Linoleum
Linoleum is not just for grandmothers' kitchens anymore. This natural material comes in a wide range of colors and styles; if you want a one-of-a-kind floor with intricate patterns, linoleum might be the floor for you. Linoleum is made from flax and natural resins. Since linoleum is a natural product, it won't emit dangerous chemicals. It's also biodegradable, eliminating the environmental impact of recycling it or throwing it away at the end of its life.
Linoleum is hypoallergenic and mildew-resistant. It can withstand high traffic and high humidity; the product hardens over time, meaning linoleum can easily endure the punishment a growing family inflicts on it.
You want to create a comfortable home for you and your family. But that comfortable home shouldn't come at the expense of your family's health or the health of the planet. Fortunately, environmentally friendly floors are beautiful and affordable. With so many green options for sale, you can find a floor that suits your home and your lifestyle. So trade in your dusty carpet and peeling vinyl tiles for a green floor that is comfortable under your feet.