Clean Up to Keep "Curb Appeal"
Wednesday, August 20, 2014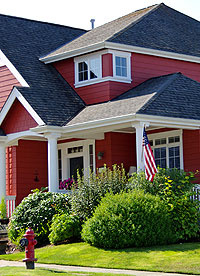 Whether a house attracts attention as someone drives or walks by can make or break a potential sale. A house can have all kinds of interior upgrades and renovations but may take forever to sell because of how it's perceived "at the curb."

Don't let potential buyers slip away. Impress them with a yard that says, "This is just the beginning of a not-to-be-missed property."

Clean up the clutter, daily.
Rake up dead or dropped leaves, clean your gutters, and pull weeds. Stand at the curb and take an objective look at your front yard. Are the branches of that gorgeous tree starting to curve downward? If you're unsure about doing it yourself, hire a professional to trim your trees. Does the "decorative" rock in your biggest tree well look like it doesn't belong? Then get rid of it. Is the walkway leading to your front door dotted with unripe fruit, cones or seeds that have dropped from your favorite tree? Be diligent about cleaning them up every day.

Keep your lawn healthy and maintained.
Mow your lawn weekly to keep it looking trim. Minimize dry or damaged spots by watering and fertilizing the grass on a regular basis.

Decide on a focal point.
Choose a colorful, lush, eye-catching accent for your yard. Here are a few possibilities: a shrub with brilliantly hued flowers (such as bougainvillea); a window box with cascading plants, heliotrope, geraniums or mums; multi-colored flowers lining a walkway.