Why ask for an FHA Loan?
Friday, August 15, 2014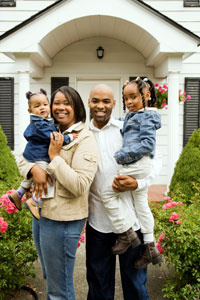 The real estate market is beginning to make a comeback, interest rates are low, and you want to buy a house. If your credit score is mediocre or you simply haven't been able to save for a down payment, don't assume you will miss this buyer's market. An FHA (Federal Housing Administration) mortgage may make it possible for you to pursue the American dream of home ownership.

FHA loans are financed through conventional lenders. FHA insures the loans, minimizing the lender's risk. A variety of loan programs are available, ranging from standard home loans to property rehab and refinancing, as well as loans for delinquent mortgage holders.

Although the "upfront" FHA mortgage insurance premium recently rose to 2.25 percent, it can still be financed over the term of the loan. It does not need to be paid out of pocket at closing. For most buyers with household incomes of less than $100,000, the upfront portion of mortgage insurance is tax deductible in the year it is paid, on homes purchased between 2007 and Dec. 31, 2010. An annual (non-deductible) mortgage insurance premium will also be assessed.

The required down payment on an FHA mortgage is currently only 3.5%―much lower than most conventional mortgages. Even many buyers with credit scores below 580 can qualify with a 10% minimum down payment, and a previous bankruptcy won't automatically disqualify you. Down payment requirements decrease and better rates are available to buyers with higher credit scores. FHA interest rates are significantly lower than those for conventional mortgages when a small down payment is made.

One of the most attractive features of an FHA mortgage, especially with interest rates at their current historic lows, is assumability. An FHA mortgage locked in at today's low interest rate can be assumed at the same rate by a qualified buyer in the future. This makes FHA loans an excellent choice for buyers who may want or need to sell the home before it is paid off. If you have plans to convert the property into a rental after living in it for a while, you may be able to qualify for another FHA loan on your next home while still holding the first one as a rental.

About one in every three mortgage loans made today is an FHA loan. While FHA is part of HUD, buyers aren't limited to purchasing HUD homes with FHA loans. Most homes on the market today will qualify for FHA loans. Additionally, many "fixer-upper" homes qualify for FHA 203(k) loans, which are based on the projected value of the property after it is repaired.